GET IN TOUCH
Fill in the form and we will call you back to discuss your graphic design requirements
At Printingprogress graphic design studio in Kent, we've an eye for detail and a flair for inventiveness. You see that 'P' in our logo? That was created based on the first ever font used in printing. We love design, from classic to contemporary, and we adore moving forward, hence 'Printingprogress'.
There's always something new to discover just around the next corner, and we're never afraid to look.
As you might have guessed, we're naturally inquisitive – ideas are the fuel that ignites and inspires us. Via our graphic design and illustration talents, we help to bring a client's branding to life, and in notable ways. A branding image needs to grab consumers (gently) by the shoulders. We create designs that will last and flourish. We'll get your company noticed and recognised for all the benefits that you provide.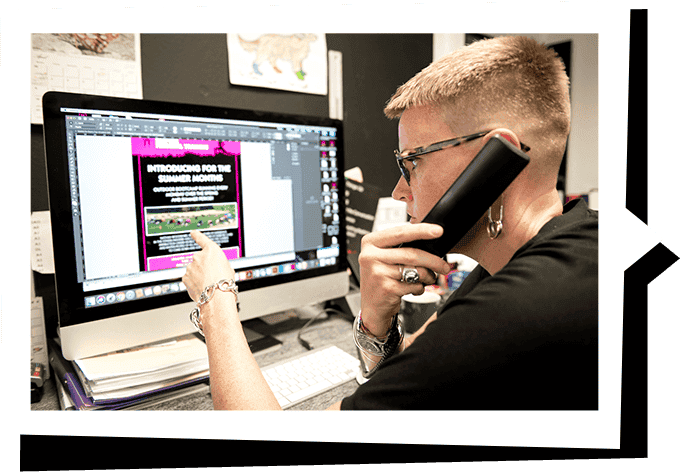 Graphic designers in Kent
We don't advertise much because fortune allows us the luxury of not having to do so. Much of our work comes via referrals from our existing clients.
So, where to get started? We can answer that one succinctly – draw up a list of questions about graphic design and we'll provide you with the answers. Obviously we can't solve all the mysteries of the universe, but we'll give any questions you have about branding, graphic design and our services a damned good answer.
We're not hello and goodbye merchants. When you build a relationship with us we'll strive to make it a long-lasting one. Our clients seem to love us – they tell us they like what we do, how easy we are to get on with and how attentive we are to their needs.
During our normal working hours we get back to you within the hour. So just get in touch if you'd like to talk to us.
If you would prefer to speak to us in person, please book an appointment. We're open 8.30am-5pm Monday to Thursday, and 8.30am-4.30pm on Fridays. Find our shop at 16 London Road, Bromley, Kent BR1 3QR.
Contact Printingprogress for your full graphic design quote.
We don't bite – in fact, we're really quite nice! Everyone in our team knows our products and services inside out and we love sharing our knowledge.