Like all ceremonies, a funeral will be structured into an order of events that those coming to say goodbye can follow.  The overwhelming grief of losing someone we love can make tasks such as these difficult.  However, taking time to ensure the ceremony reflects the person it is celebrating the life of, is important.  Our customers often want us to design an order of service that not only outlines the practicalities of the ceremony, but that serves as a special keepsake full of memories, achievements and celebrations of the life that is lost.
We take a look at some of the things to write about to ensure your order of service becomes a fitting memento that those present, and those that are unable to attend, will treasure for years to come.
The front page
Our advice here would be to keep the front page simple.  Choose a lovely photo that focuses on the person being honoured and make it the centrepiece.  A good photo that really sums up their personality, character or just your best memory of them, will speak volumes.  When an attendee walks into the ceremony, and the order of service is handed to them, a fond picture of the person departed will act as the warmest welcome to them.  Although a funeral service is a formal service, the photo on the front doesn't have to be, capturing their personality is more important and when your family and friends open up the booklet years later, they will smile at the memory evoked.  If you are finding it hard to choose a front-page picture, invite friends and family to help you.
You will also want to include their name, their birth date and the date of their death.
You may also want to include a short sentimental message or quote. Or just keep things simple with just the location and time of service.
Outlining the service
The order of service is generally decided by the close family of the departed with the help of funeral planners and the person conducting the ceremony.  Depending on the venue or the place of worship that the funeral is taking place at, there may be a particular way that things are generally run, so make sure your plans can be accommodated before you get your order of service booklet printed.  However, as a general guide, many of our customers have included the following within their programme:
A special song or sentimental piece of music to have playing as attendees enter the service. You can reference the name of the piece within the order of service for those that are not familiar with it.
A welcome and introduction from the person leading the ceremony (usually a vicar or priest)
Readings are generally a popular choice as it is a nice opportunity to include relatives or close friends in the service. If people close to the departed want to say a few words this is their opportunity.  Similarly, the family may ask someone to read something on their behalf.  Readings can be religious passages, a much-loved poem or something handwritten.  You will want to include what is being read and who is reading it within your order of service.
Blessings or prayers. In a religious funeral ceremony, the vicar or priest will lead prayers or conduct blessings for both the departed and the mourners.  If there is a shared prayer or verse that everyone reads together it is a good idea to include the written verse/prayer within the service booklet for everyone to follow.
Music, hymns and songs. If you include any music, hymns or songs within the service remember to include what they are and who they are written/sung by.
Eulogy.  Most funerals have some kind of tribute or eulogy remembering the individual.  This generally includes details of the departed's life, career, achievements, hobbies and stand out personality traits.  It often mentions family members, friends and some fond memories and stories shared by the bereaved.  This is often read out by a close family member but if they do not feel they are able to do it at the service they may ask the vicar/priest to do it for them. You may want to include a written version of the eulogy within the order of service as it will contain lots of memories from the individual's early life that some attendees may not have known or it may just be something that people will want to enjoy reading again at a time when their grief is not so raw.
Committal.  This will happen towards the end of the service and is the time to say final goodbyes to the deceased.Whether it's a cremation or burial, there will be a short committal service/blessing.
Closing music.  As with the opening music, you should reference the name of the piece within the booklet for those that are not familiar with it.
Add a personal touch
The exact details of an order of service will be bespoke to each individual as it will be a unique commemoration of their life.  Once you have outlined the order of events that will take place during the ceremony itself you may want to use a page or two to add a little personal touch to the booklet.  It is your opportunity to make the booklet special and a fitting tribute to the person that has died.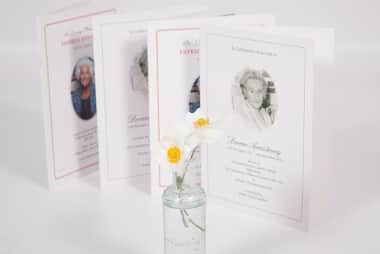 You might want to include a collage of pictures that showcase prominent landmarks and achievements in their life like their wedding, graduation, travels, professional accolades and births.   You may even decide to create a timeline of events using pictures or words.  Some people simply choose to collage all their favourite memories and others use it as an opportunity to showcase thoughtful messages or sentiments written by friends and family of how they remembered the person honoured.  You may want to ask family and friends to share their favourite memory of the person and include it on these pages.  Maybe you want to include poems or meaningful lyrics to a song.  It can be anything that is special or prominent about the life being celebrated.
The back cover
There is no need to over complicate this page.  We usually find a closing photograph that shows a different side to the individual's character, or one of them at work or with family at a special occasion works well – a photo that is unique to the booklet.
The back cover is also a good place to mention where you would like charitable donations sent to.  Maybe a charity helped or cared for the departed in their later years.  Maybe your wish is for people to donate to charity rather than send flowers.   Maybe the individual was very sick before they passed, and you would like people to donate to a charity to help others suffering from the same condition.  Print the necessary details on this page.
This page is also a good time to express thanks to everyone for attending, extend your warm wishes to distant friends and relatives you were unable to attend but who received a copy of the order of service booklet.  Most people also thank the funeral service provider, particularly if they are a local company and well known in the community.
Lastly, you need to let people attending the service where to go next.  Provide details and location of the burial/wake that will follow the service.
Design and print
Printing Progress can take care of all of this for you.  We can talk through what you would like or provide you with some suggestions if you prefer.  Whether it is just printing you need or a more tailored design as well, we'll take pride in designing a fitting souvenir that best sums up the life of your loved one.  No matter what the lead time is, our funeral printing service will have everything ready for you, when you need it.  Please do not hesitate to contact us if you would like to chat about any of our services.