Funeral printing
We are here to help you with your funeral printing at this difficult time. We'll talk you through your options – speak to us for advice and support.
GET IN TOUCH
Fill in the form and we will call you back to discuss your funeral printing requirements
A funeral is a very personal, very emotional time for all involved and particularly for families and loved ones. It is often the case that you need something printed for the funeral, but it is the last thing on your mind and with everything else to organise you don't quite know where to start. We can help you. We will guide you through the options, advise on what works best for the funeral that you, or your loved one, would like to have, and manage it all for you. From orders of service and prayer cards to photos of loved ones and personalised memory cards, let us help you through a difficult time by taking on the burden of organising and managing all printing.
We know how difficult this time is. We will work with you to make it just right and just as your loved one would have wanted. Whether it is just printing you need or a more tailored design as well, we will take it off your hands and manage it all for you. No matter what the lead time is, we promise to have everything ready for when you need it.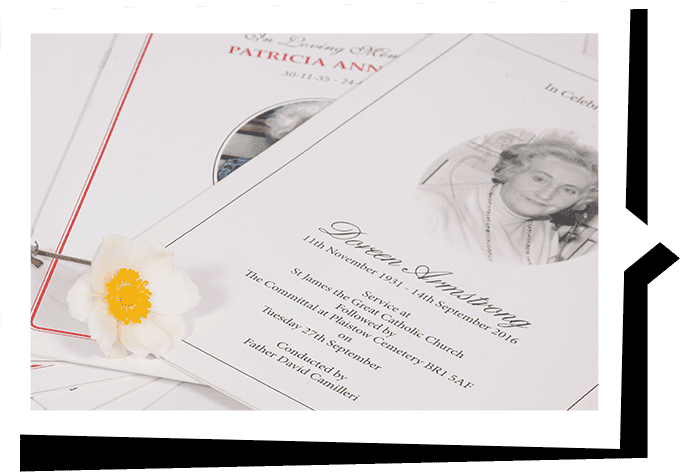 Your funeral printing options
We are here to support you at this difficult time. We will work around your deadlines, making sure your printing is ready for the service, taking away the stress of organising printed materials. You can hand everything over to us – you will have many other things to think about, and we are here to support you.
These are some of the funeral printing products we most regularly supply:
Order of service. We can create a bespoke order of service with details of hymns and readings as well as information to make it more personal.
Memory cards. Share memories, photographs and thoughts in honour of your loved one and give everyone something to take away.
Photographs. If you would like a photo of your loved one to place on their coffin, we can create high-quality framed prints.
Prayer cards. Remember your loved one with comforting words. We can create personalised prayer cards, including pictures and messages if required.
We will go to any lengths to ensure your printing is ready on time, giving you one less thing to worry about. Just talk to us about your requirements. We fully appreciate that you might not know exactly what you need, so we will be able to provide advice and support.
You can rely on us for quality work every step of the way. We will check over proofs and make sure everything fits as it should before going ahead – something you simply don't get with an online printing service. We can help with design as well as print, so if you'd like to talk to us about the options for your order of service, just let us know. All printed items use Forest Stewardship Council (FSC) approved paper from sustainable forests.
Please talk to us if you need to know anything. We're open 8.30am-5pm Monday to Thursday, and 8.30am-4.30pm on a Friday. We're based in Bromley, on London Road, Kent BR1 3QR – we offer a free nationwide delivery service so please get in touch, wherever you are in the UK. Contact us conveniently, however it suits you, from calling, to sending us a WhatsApp message, to using Facebook messenger.
Our brochure
Please see our brochure for descriptions of the printed funeral products we most regularly supply. We can print in different sizes, formats, and designs, and if you are unsure of anything, please do just ask.
If you would like something specific to help you remember a loved one and make their funeral more unique and personal, please just let us know. We are able to source other products and work around you.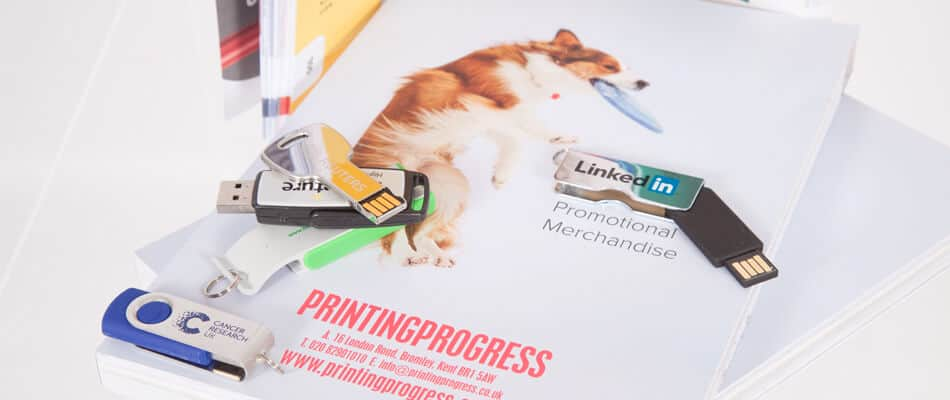 Contact Printingprogress for more information about funeral printing.
We are experienced funeral printers and will always go that extra mile to make sure you have what you need during this difficult time for you and your family.