As we see many retail shops begin to slowly open their doors for business again after months of closure due to the lockdown, the safety of staff and customers will continue to be of upmost concern to business owners.  We remain very busy here at Printing Progress, helping local businesses keep their staff members and customers as safe as possible with a wealth of social distancing signage to choose from that meet their specific requirements.  For the retail sector, we would particularly recommend our Countertop Sneeze Guards, PPE Full Face Visors, and our new clear Protective Screen Banners.  We take a closer look at these three products and how they can help limit the risk and spread of the virus.
Countertop Sneeze Guards
If you are looking for a sturdy cough/sneeze guard that will protect your staff whilst visually and practically fitting the space, our Countertop Sneeze Guards will serve you well.  How do they work?  Well, the World Health Organisation advises that Coronavirus mainly spreads through the air when an infected person coughs or sneezes.  Our Countertop Sneeze Guard screens can be placed onto service counters, serving as a physical barrier between staff or product, and customers reducing your staffs' exposure to potential infection.  In short, the guards comply with regulation while protecting your staff and showing them, you care.  You can even brand them with your company logo.
They are not just suitable for till points, but for other serving locations, reception areas and desks. They are durable to most cleaning chemicals and should be cleaned regularly with soapy water or window cleaner spray.   Can be customised to the height you need so you can adhere to the at (or above) head height guidelines.
PPE Full Face Visors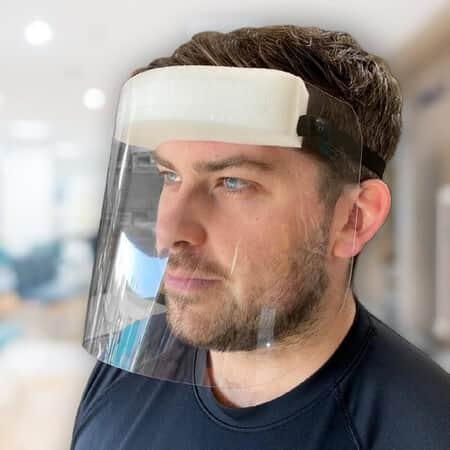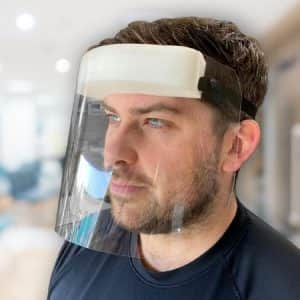 Our full-face visors will also protect staff and customers from spray and splatter.  They come fully assembled with a foam headband for comfort and cover the face from forehead to chin.  They are roomy enough to fit and masks or eyewear comfortably under them – without blocking your vision.  Once you receive them, we recommend cleaning with a soft cloth or mild soap/detergent and water before your first use and here are a few tips on how to put on and take off the visors that you can communicate to staff:
How to put on a Full-Face Visor:
Wash your hands thoroughly with soap and water (or hand sanitiser) before you touch the visor.
Raise the visor to your face and place the cushion foam bar against your forehead.
Place the elastic strap over the crown of your head.
Adjust the strap so the visor fits over your entire face and is comfortable.
How to remove a Full-Face Visor:
Wash your hands with soap and water (or hand sanitiser) before you touch the visor.
Reach back to touch the elastic strap. Do not touch the front of your visor in case it is contaminated.
Lift the elastic strap up and over your head and remove the visor from your face.
Discard you face visor. Clean your hands again with either soap and water, or hand sanitiser.
Clear Protective Screen Banners
This is a new product to our range which are perfect for dividing up rooms or adding protection between customers – particularly useful for hairdressing salons that are preparing to open soon.
They are freestanding banners and are ideal for open environments to create invisible barriers.   They are easy to clean between use due to the antibacterial properties in the materials and are produced on a transparent, printable vinyl stock and inserted into heavy-duty roller casing for easy transportation and assembly.
Whatever sector you work in we can produce signage that will enable you to meet the safety guidelines set out by the government.  If you need something bespoke please contact us, we would be delighted to chat through your requirements further.  We are open for business and welcome your visit.